Carving out a career through alien vegetation management
Invasive alien vegetation such as rooikrans depletes underground water resources, taking both water and space from the Cape's indigenous trees and plants. They also pose a veld fire risk, and a threat to biodiversity as they disrupt the natural balance in ecosystems.
CapeNature trains people from local disadvantaged communities in plant identification, chainsaw use, health and safety, herbicide use, personal finance, site management, field safety and survival, among other skills through its alien-vegetation removal programme.
Ernest Tengren – who has played a vital role in eradicating aliens from the precious environment of the Overberg nature reserve of De Hoop over many years – has come a long way on his 17-year career journey.
After finishing school in 2001 in Swellendam, he started studying chemical engineering at the Peninsula Technikon, but could not complete the course due to financial problems.
After an unsuccessful six-month stint working for a pittance in Cape Town, he started working as a woodcutter on a farm near Infanta in the Overberg in 2003, with a wheelbarrow as his only "transport" and one machine.
These days, Tengren runs a professional, qualified team, highly experienced in alien vegetation management.
It all started when someone referred him to CapeNature in De Hoop back in 2003, which led to an initial verbal agreement to start cutting in the eastern section of the reserve. This later led to a service level agreement, with a code of conduct and all relevant regulations and protocols in place, including monthly health and safety meetings and regular inspections.
Currently, Ernest is one of three contractors who have won tenders to work in alien vegetation management at De Hoop, and he employs 16 people, all locals from Swellendam, and some of whom have worked with him for 10 years or more.
It is a win-win situation – CapeNature benefits in that alien trees are being eradicated, while contractors such as Ernest and their employees make a living by selling the wood, mainly rooikrans, sought after as braai wood.
While some contractors these days use hydraulic axes, Ernest believes in the traditional method of using a hand-held axe – the hydraulic option deprives people of their livelihood, he feels. Even using the traditional method, one experienced woodcutter can cut between 4 000 and 7 000 pieces of wood a day, he explains.
"The alien clearing programme is a good one. Through CapeNature, we have learnt how to protect and cover our people properly, to train them and to ensure the correct health and safety protocols.
"We also do fitness training, and know how to work together as a team in the event of a fire. Our chainsaw operators have the necessary qualifications … we have everything in place," says Ernest.
"I started with a wheelbarrow. Now I have three bakkies, my own lorry, a tractor and my own machinery. I'm independent."
Case Studies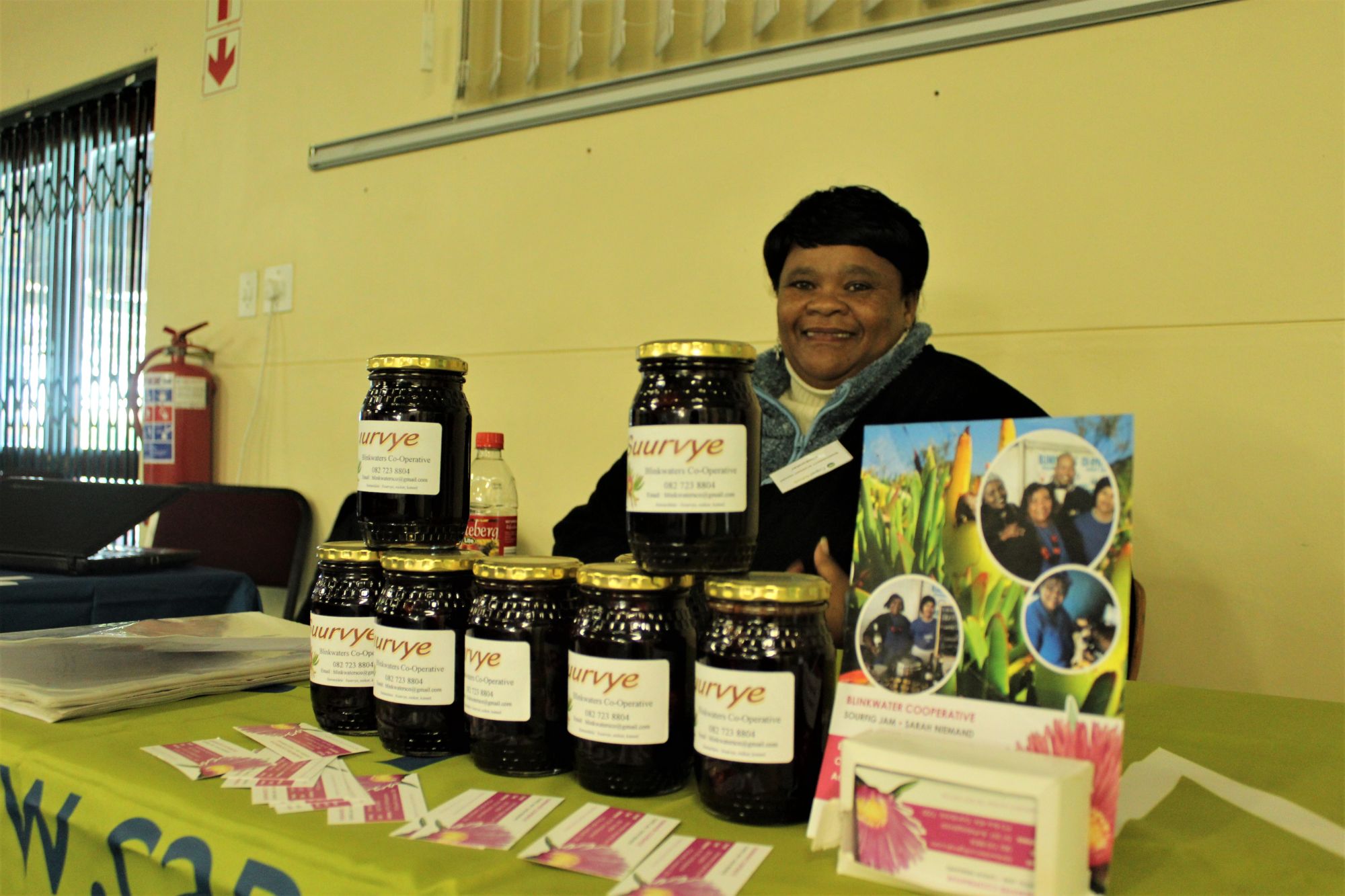 Building a business on sour figs
Drawing on her traditional heritage and through hard work, Sarah Niemand has built up her Blinkwater Cooperative business from harvesting the sour figs growing in the coastal dunes in a nearby protected area.