The Western Cape continues to be threatened by uncontrolled fires – it is one of the provinces most affected by veld fires in South Africa. The situation is exacerbated by infestations of alien vegetation and increased hot, dry periods as a result of climate change. Fires in mountain catchment areas affect the availability of enough high-quality water for people and agriculture.
Natural fires are actually good for fynbos plants, because fire helps them reproduce and ensures their long-term survival. However, if fires occur in the wrong season, or too often, species can become extinct. In recent years, there has been a steady increase in the number of fires and areas burnt, and certain areas are repeatedly burnt well outside their natural cycles.
To find out more about fire management, download or view the Landowner's Guide to Fire Management fact sheet below: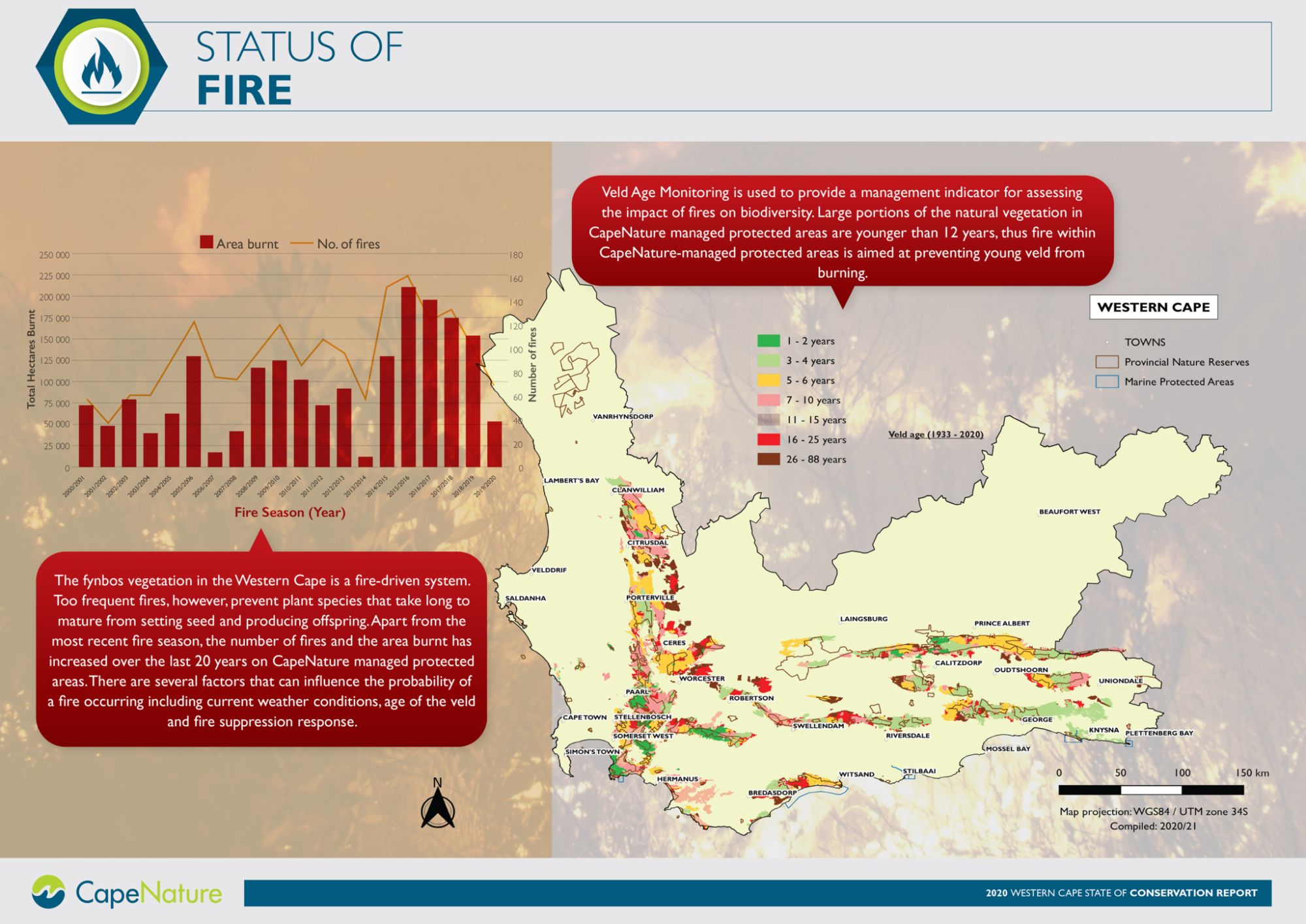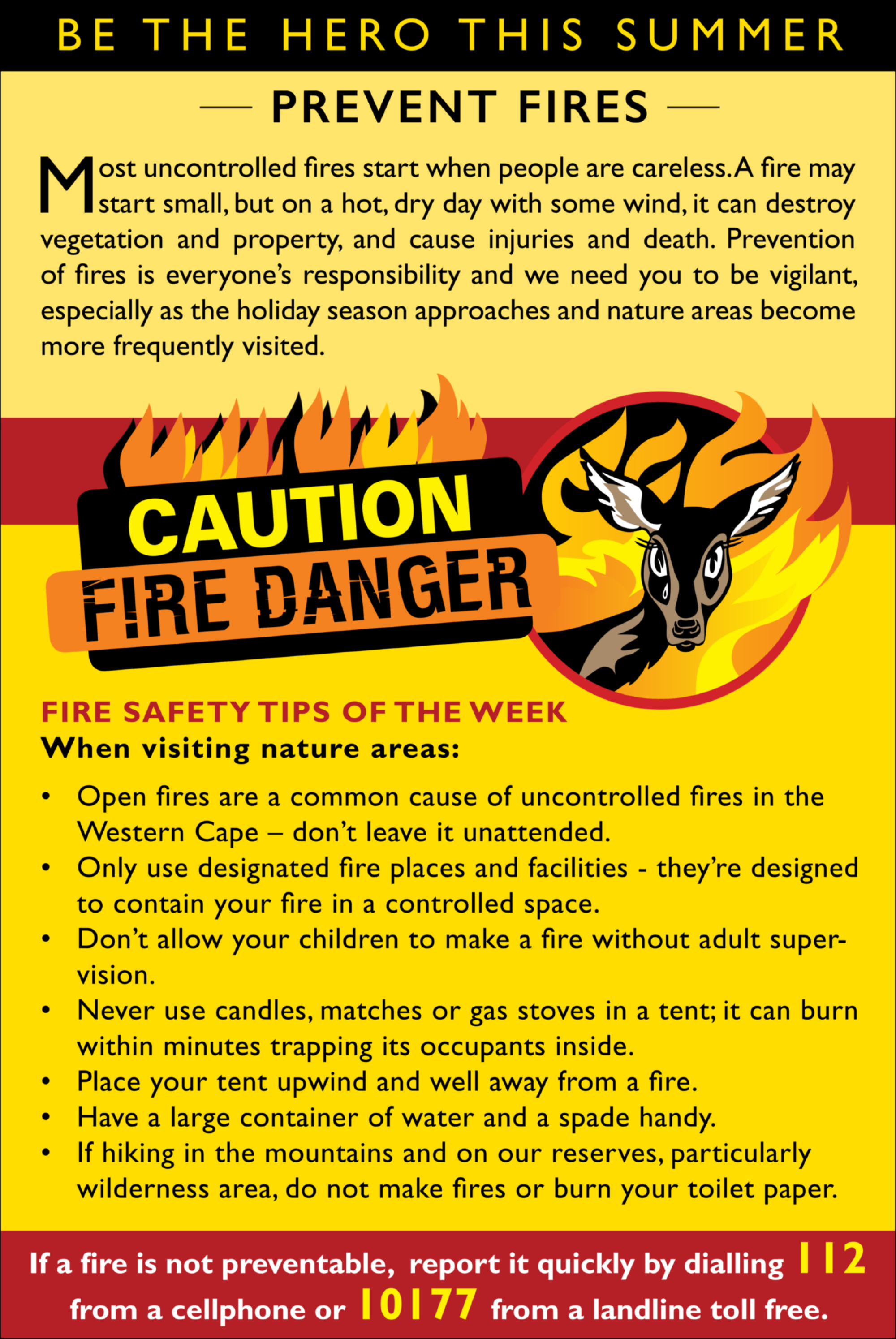 CapeNature aims to prevent uncontrolled fires by raising awareness and encouraging everyone to help minimise fire risk.
Help us prevent veld fires
Most uncontrolled fires start when people are careless. A fire may start small, but on a hot, dry day with some wind, it can destroy vegetation and property, and cause injuries and death.

Here are some tips to help you prevent fires from starting or spreading:

Dispose of hot ash and coal used for heating and cooking safely, away from any flammable plant material or rubbish
Do not leave open fires unattended and smother them with sand once you no longer need them
Make sure there are no illegal electrical connections in or near your home. Illegal and faulty electrical connections can get hot and start a fire
Keep the area around your home clear of materials that can burn, such as firewood, kindling and rubbish
If you see someone playing carelessly with fire, matches or lighters, ask them to stop
Burn rubbish on cooler days when there is no wind
Do not flick cigarette butts out of your car window
Report veld fires immediately
Have the relevant emergency numbers at hand to report any veld fires
Should you come across a veld fire, please call your closest district emergency number straight away.
City of Cape Town: 107 (or 021 480 7700 if you are calling from a cellphone)
Overberg: 028 425 1690
West Coast: 022 433 8700
Eden: 044 805 5071
Central Karoo: 023 414 2603
Cape Winelands: 021 887 4446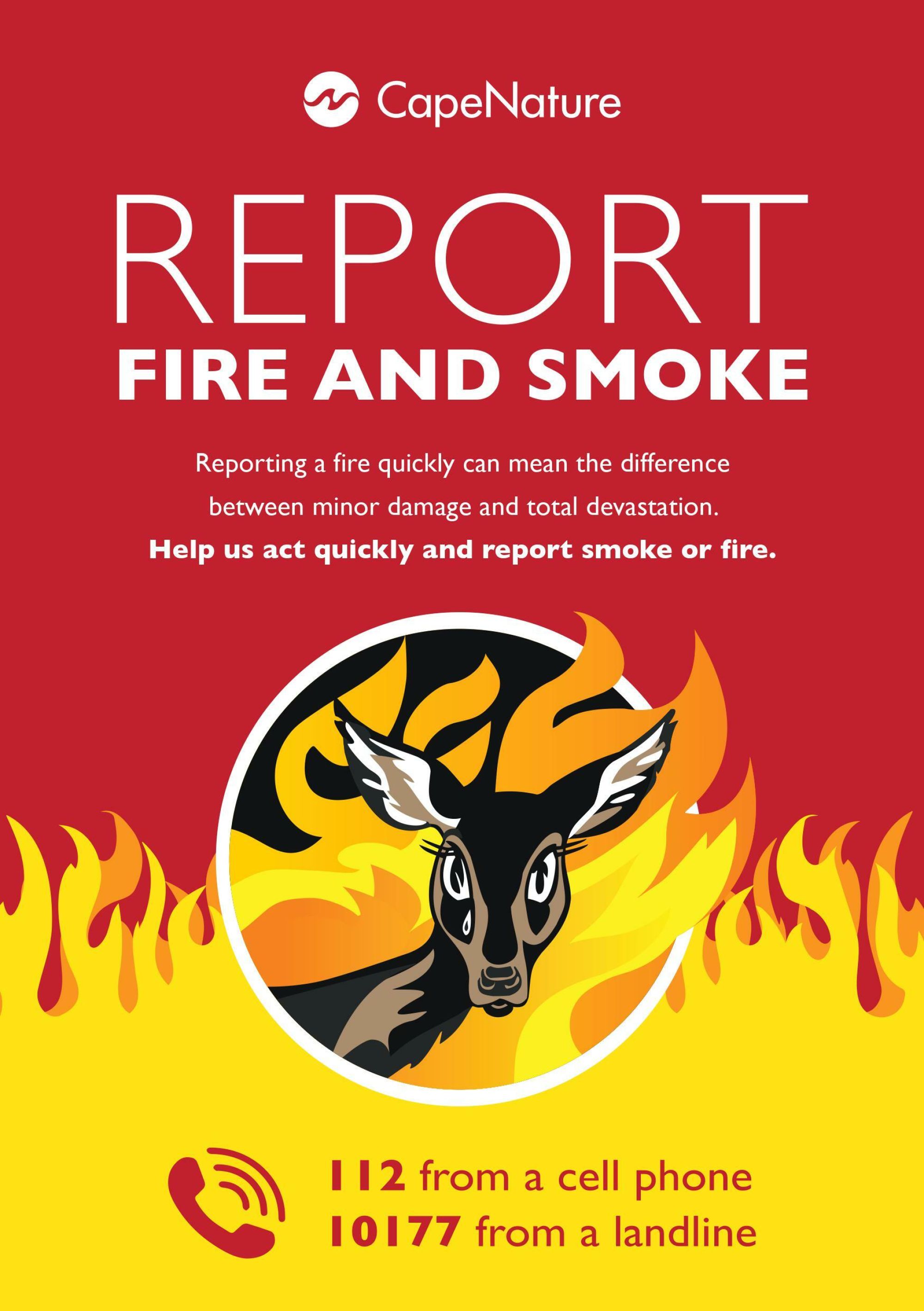 Related news
Fire awareness - BE THE HERO THIS SUMMER
Reporting a fire quickly can mean the difference between minor damage and total devastation. Fires can be reported by dialling 112 from a cell phone or 10177 from a landline.
Devastating wildfire sees Jonkershoek, Assegaaibosch and Assegaaiboschkloof Nature Reserves closed for public access until further notice.