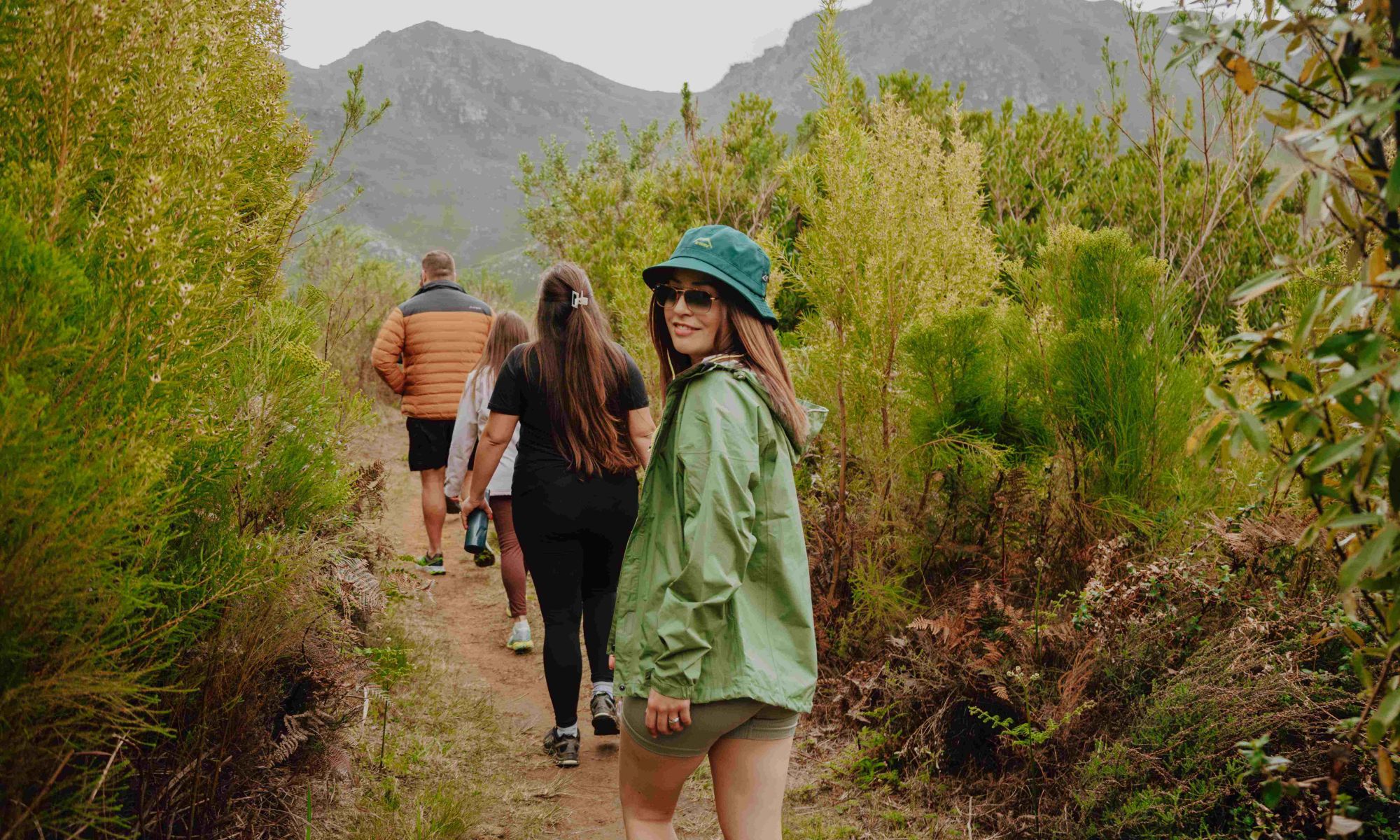 Plan Your Next Trip by Exploring the New CapeNature Reserves Map
With CapeNature's new reserves map crafted by Forge, planning your next CapeNature adventure just got even simpler. The easy-to-use map neatly highlights all CapeNature reserves, accompanied by links, photos and helpful information. This interactive map empowers you to explore not only the layout of the camps but also the entire trail network that CapeNature looks after, with up-to-date notices of individual trail statuses and reserve closures.
The map is synced with the free Forge mobile app so you can be rest assured that when you're hiking and exploring the beautiful trails, the digital map on your free Forge app will also be up-to-date. Integrating across platforms is entwined in our mission at Forge to give you the most comfortable and safe experience possible and part of our dedication to offering the best solution to you, working together with CapeNature as their digital mapping partner.
A major highlight of the new map is live, up-to-date warnings and closures for each reserve. Trails and reserves may be closed for safety reasons, particularly in winter, when the Cape often experiences numerous and potentially dangerous rain downpours. We collaborate with CapeNature to update you on emergency closures as soon as possible, allowing you to plan accordingly.
The map is indeed intuitive and easy to navigate but let's take a closer look at the map tools and features so that you get the most out of it: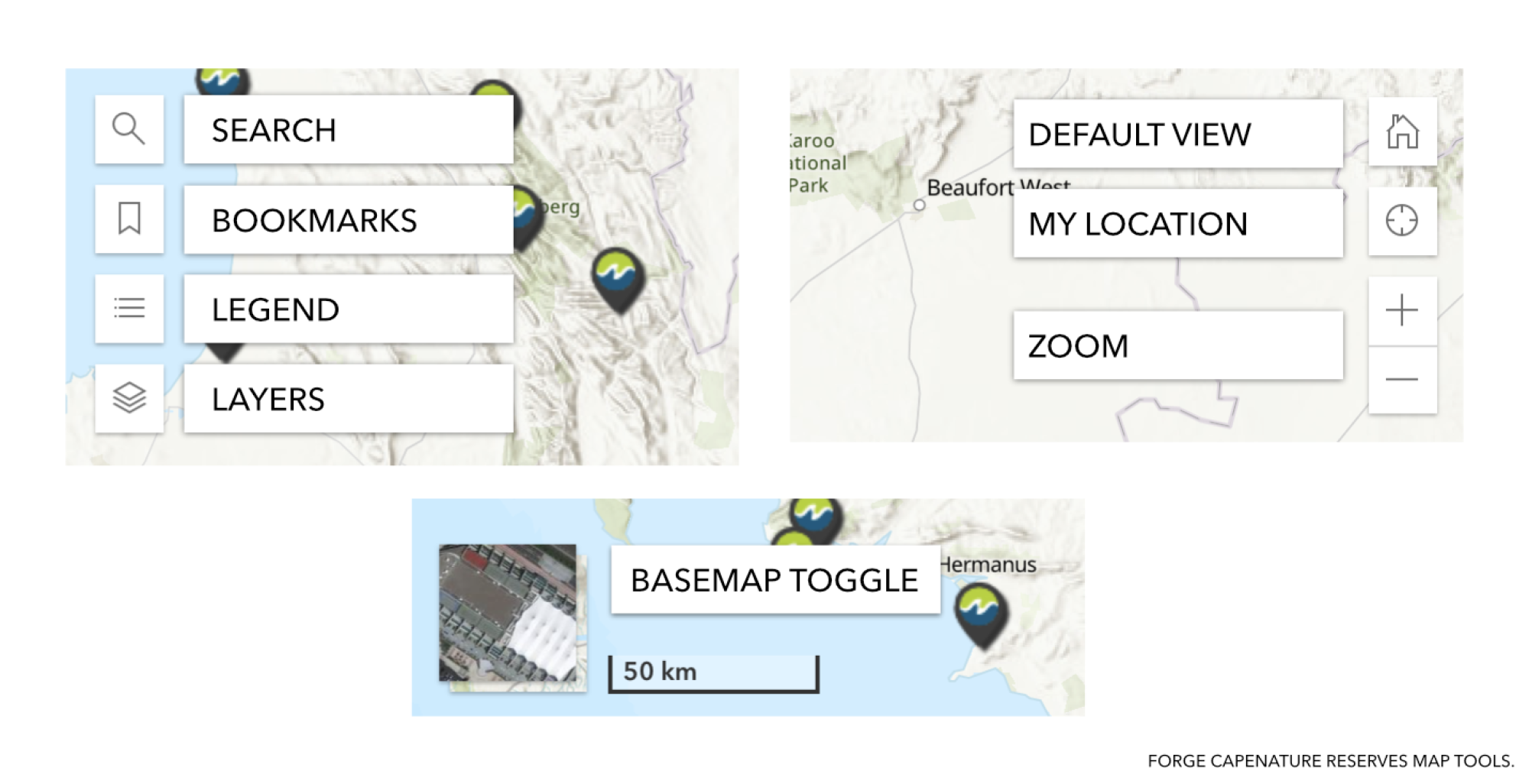 1. Search: Find exactly what you're looking for including reserves, and even specific trails and points of interest.

2. Bookmarks: Browse the list of reserves and click on the one you're looking for to navigate straight to it.
3. Reserves: Clicking on a CapeNature map pin will open up details for the reserve chosen. Here you can easily navigate to useful links for it including its homepage, booking portal, Forge trail map on the Forge website and Google Maps to help you plan your driving route there.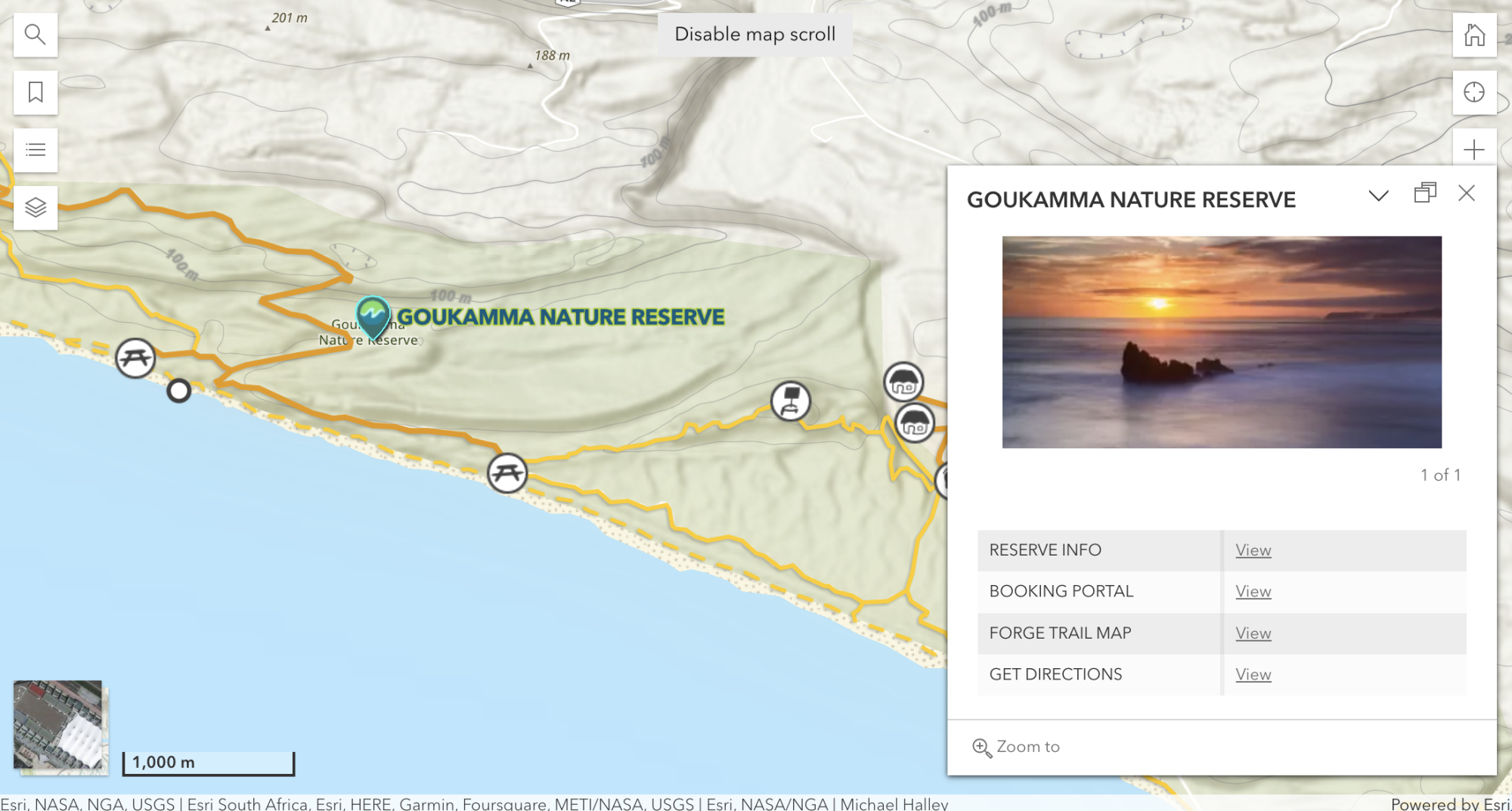 4. Legend and Layers: The legend is a guide to all the map elements while in the layers panel. You can decide exactly what is shown on screen.
5. Basemap toggle: Switch between a clean topographic map or high-definition satellite imagery.
6. Home button: Reset the map to its default view.
7. My location: Centre the map to your current position. Please note that location services in your browser must be permitted and enabled to use this feature.
8. Zoom: Change the magnification.
Use our interactive map to get the most out of your next trip exploring the magnificent trails CapeNature has to offer. As we are always looking to make our maps as simple and helpful as possible we welcome your feedback! Drop us an email, at info@forgesa.com to share your thoughts and comments.